This is only a brief summary. For more information, please visit the Aquaberry page at Bully Wiki.
Aquaberry
is a fictional high-end clothing brand in
Bully
.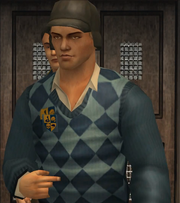 Appearance
Aquaberry's signature piece is the Aquaberry vest and Aquaberry sweater. The design consists of alternating blue diamonds in harlequin style, in aqua blue and dark aqua blue colors. For
Bullworth Academy
, the Aquaberry Outlet store in
Old Bullworth Vale
sells Aquaberry sweaters and vests with the Bullworth crest embroidered on it. Therefore, they both count as appropriate within the dress code.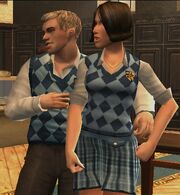 Merchandise
Aside from Aquaberry sweaters and vests, Aquaberry sells various other articles of clothing, including tuxedos, coats, and shoes. Aquaberry also has other clothing lines such as "Rough n' Rich" and "Luxury Stud".
Aquaberry clothes is favored by the Preppies.
The name 'Aquaberry' is a combination of two luxury British clothing brands; Aquascutum and Burberry.
Aquaberry Outlet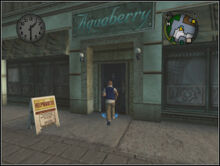 In the small shopping plaza in Old Bullworth Vale, an Aquaberry Outlet store is located and is run by Mr. Carmichael.
On posters on the walls of the outlet, Derby Harrington appears on posters modeling clothes for the brands, alongside a model named Candy who does not physically appear in the game. As the game continues, a poster appears with Jimmy Hopkins on it, modeling as well, only his hair is in a prep style.
The clothes in the outlet are significantly more expensive than in other stores, reaching even $100.
Ad blocker interference detected!
Wikia is a free-to-use site that makes money from advertising. We have a modified experience for viewers using ad blockers

Wikia is not accessible if you've made further modifications. Remove the custom ad blocker rule(s) and the page will load as expected.