"I don't think girls like me. I think it's 'cause they're intimidated by my sense of timing. THREE watches, y'know?!"
— Bucky Pasteur
This is only a brief summary. For more information, please visit the Bucky Pasteur page at Bully Wiki.
Bucky Pasteur is a member of the Nerds clique in Bully.
Character Summary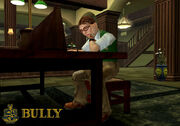 Bucky is underweight and has messy blond hair and brown eyes. Additionally, he has prominent buck teeth and brown tortoise shell glasses. He wears the typical nerd Astronomy club vest and brown slacks that are patched at the knee. On his left arm, he wears three watches for his "sense of timing". He has a nasal voice and uses odd words and inflection.
Bucky, despite being a nerd, is not very smart and struggles academically. He is particularly bad at English, in which he considers a 'C' on his test a good grade. Bucky does, however, seem to have an interest in science. He is being raised by his grandmother, whom he likes and speaks highly of fairly often. Additionally, Bucky owns a pet rat named George, who went missing around Halloween time.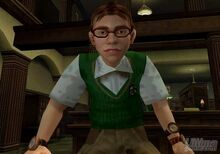 Bucky has a crush on Beatrice, however, she is oblivious to this, and considers him a good friend.
It is considered that Bucky has poor hygiene, as he states that he has a "bath night", however, he may just take a bath once a week, and shower the other days.
Quotes
Main article: Bucky Pasteur/Quotes
Links