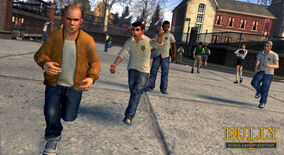 Articles found on canon characters from
Bully
are summaries which contain basic information to provide ideas and quick information to fanfiction writers. If you wish to see more in-depth articles, links to the Bully Wiki version of articles can be found on each page.
Character Articles
Bully Fanon Wiki News
VALENTINES DAY IS UPON US!
Did you know? Any Valentines Day-related fanfiction is posted on the front page! Why not write some?
Need help starting up on Bully Fanon Wiki? Use this!
Wiki Holiday Stories
These are stories written by the writers right here on Bully Fanon Wiki, all holiday themed!
⛄ ⛄ ⛄
❆ None yet!
Christy Martin
Christy has red hair that is tied in a ponytail, and green eyes. She wears a white blouse, plaid dark teal skirt and a matching tie. On her feet she wears white knee socks and black Mary Janes. In the winter, Christy wears white tights, mittens, a dark and pale teal striped scarf, and a hat. Her pajamas are pink. She is on the cheer squad, and can be seen in her cheer uniform...
More
About Bully Fanon Wiki
Bully Fanon Wiki was started in April 2009.
It was resurrected and adopted by SodaCat in October of 2010.
Rules and Policies
Bully Fanon Wiki Staff
Noticeboard
Links
Ad blocker interference detected!
Wikia is a free-to-use site that makes money from advertising. We have a modified experience for viewers using ad blockers

Wikia is not accessible if you've made further modifications. Remove the custom ad blocker rule(s) and the page will load as expected.