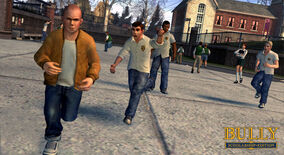 Articles found on canon characters from
Bully
are summaries which contain basic information to provide ideas and quick information to fanfiction writers. If you wish to see more in-depth articles, links to the Bully Wiki version of articles can be found on each page.
Character Articles
Bully Fanon Wiki News
I hope everyone had a good summer!
Need help starting up on Bully Fanon Wiki? Use this!
Good way to start off the school year is with some Bully!
Bo Jackson
Bo is a medium sized, black jock. He has light brown eyes and wears a blue team sweater and a backwards white baseball cap. He does not change outfits for the winter. Underneath his cap...
More
About Bully Fanon Wiki
Bully Fanon Wiki was started in April 2009.
It was resurrected and adopted by SodaCat in October of 2010.
Rules and Policies
Bully Fanon Wiki Staff
Noticeboard
Links
Ad blocker interference detected!
Wikia is a free-to-use site that makes money from advertising. We have a modified experience for viewers using ad blockers

Wikia is not accessible if you've made further modifications. Remove the custom ad blocker rule(s) and the page will load as expected.