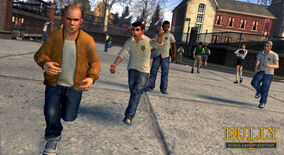 Articles found on canon characters from
Bully
are summaries which contain basic information to provide ideas and quick information to fanfiction writers. If you wish to see more in-depth articles, links to the Bully Wiki version of articles can be found on each page.
Character Articles
Bully Fanon Wiki News
As fall begins, why not settle in with a warm drink to write some fanfiction?
Need help starting up on Bully Fanon Wiki? Use this!
Davis White

Davis is a small bully with brown hair and brown eyes. He has a couple blemishes on his forehead and wears the standard bully outfit of a white school shirt and jeans. In the winter, he adds an urban gray wool hat and black fingerless gloves. Davis enjoys tormenting freshmen, and blames his cousin for his being a bully...
More
About Bully Fanon Wiki
Bully Fanon Wiki was started in April 2009.
It was resurrected and adopted by SodaCat in October of 2010.
Rules and Policies
Bully Fanon Wiki Staff
Noticeboard
Links