"I failed Biology, and my dad won't pay for an A."
— Chad
This is only a brief summary. For more information, please visit the Chad Morris page at Bully Wiki.
Chad Morris is a member of the Preppies clique in Bully.
Character Summary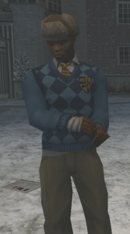 Chad Morris is the only black member of the preps. His brown hair is styled in a buzzcut, and he has dark brown eyes. He is medium sized and wears the usual prep outfit, consisting of an Aquaberry vest and tan slacks. He wears a gold bracelet on his left wrist. In the winter, he wears an Aquaberry sweater with a deerstalker cap.
His most noticeable feature is his right hand, which he keeps wrapped in bandages. While the specific reason is unknown, it is commonly thought to be either because he was bitten by his dog, Chester, or have something to do with boxing. He has a small fencing scar on his left cheek.
Chad, while as arrogant and entitled as the other Preps, appears to be insecure due to his physical appearance. It is suggested that he had a nose job and that he wished to take steroids, but was unable to because his father would not let him. His father owns a large conglomerate. Chad is known to be both whiny and overdramatic and complains that his father refuses to bribe his Biology teacher into giving him an A.
He had a short-lived fling with Lola Lombardi, who used him to get money. She dumped him, however, after he hesitated and refused to steal $100 from his father for her.
He takes flute lessons and used to run track. At one point, he was in the Glee club. He also claims to know Jiu-Jitsu.
Quotes
Main article: Chad Morris/Quotes
Links