"It's not like anyone actually cares about the game, they're all there for the awesome cheerleading!"
— Mandy Wiles, Head Cheerleader
This is only a brief summary. For more information, please visit the Cheerleading Squad page at Bully Wiki.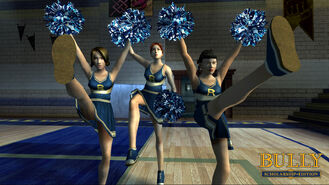 The Cheerleading Squad is Bullworth's cheerleading team.
Cheerleaders
There are only four members in the cheer squad. Mandy Wiles is the head cheerleader. The other three members are Christy Martin, Angie Ng, and Pinky Gauthier. When in their cheerleading uniforms, Pinky, Christy, and Angie are considered to be members of the Jocks clique.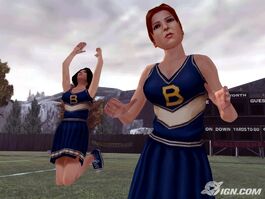 They can be seen practicing on the football field after school.
Beatrice Trudeau has tried out for the squad multiple times, but has been rejected each time by Mandy.
The cheer squad also cheers during the wrestling classes, as well as for the football team, and the rest of Bullworth's sports teams.
Uniform
The cheerleading uniform consists of a navy blue tank top, adorned with white and gold trimmings, and a white and gold stripe along the middle, just underneath the bust. At the front of the chest is a gold 'B'. The uniform's skirt is also navy with white and gold trimming.
Navy blue canvas shoes are also worn with the uniform. The laces of the shoes are also gold in color.
The cheerleaders use pompoms that are white, cyan, and navy blue.
Cheers
The following cheers are called by Mandy, Christy, and Angie. Curiously, Pinky's speech files do not contain any cheers.
Cheers
Mandy & Christy: Bullworth rules! Bullworth rules! Bullworth rules all the schools!
Mandy & Christy: Bullworth boys are better than the rest! Yay!
Angie & Christy: The strongest boys in all the land; Bullhorn fans clap your hands! Yeah!
Angie & Christy: Hey all you Bullhorn fans! Stand up and clap your hands! Bullworth! Bullhorns! Yeah, yeah, yeah!
Christy: We're from Bullworth and we're the best! Bullworth girls have lovely chests!
Christy: That's alright, that's okay, we might win a game one day!
Calls
The following calls are all called by Christy.
Woooooooo!
Bullworth Bullhorns! Bullworth Bullhorns!
Go Bullhorns, go!
Woohoo! Bullhorns!
Everybody loves the Bullhorns!
Yay, Bullhorns!
Bullworth Bullhorns, go, go, GO!
Yay, go team!
Come on, boys, show us what you got!
Bullhorns never give up, yeah!
We've got school spirit and pompoms, woo!
Bullworth boys are better than the rest! yay!
Ad blocker interference detected!
Wikia is a free-to-use site that makes money from advertising. We have a modified experience for viewers using ad blockers

Wikia is not accessible if you've made further modifications. Remove the custom ad blocker rule(s) and the page will load as expected.