"What if I start a rumor about me being a princess?"
— Christy Martin
This is only a brief summary. For more information, please visit the Christy Martin page at Bully Wiki.
Christy Martin is a Non-Clique student in Bully.
Character Summary
Christy has red hair that is tied in a ponytail, and green eyes. She wears a white blouse, plaid dark teal skirt and a matching tie. On her feet she wears white knee socks and black Mary Janes. In the winter, Christy wears white tights, mittens, a dark and pale teal striped scarf, and a hat. Her pajamas are pink. She is on the cheer squad, and can be seen in her cheer uniform in the gym and around the football field on occasion.
Outgoing and bubbly, Christy enjoys gossiping and spreading rumors. She is very interested on the weekly gossip around the school, and enjoys making out, and is hinted to be promiscuous. Despite this, she has a dark side, and appears to be suicidal. She can be heard talking about setting the
school
on fire or committing suicide, and when provoked she threatens to strangle or whip people with her hair ribbon.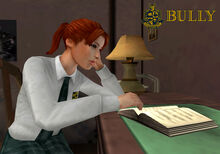 She is most likely related to
Wade Martin
and
Mr. Martin
, the three of them share a surname and hair color. Additionally, their dialogue about their troubled home lives match up.
Angie Ng is Christy's best friend, and they are on the cheer squad together. She also appears on Ted Thompson's presidential campaign posters with Mandy.
Quotes
Main article: Christy Martin/Quotes
Links
Ad blocker interference detected!
Wikia is a free-to-use site that makes money from advertising. We have a modified experience for viewers using ad blockers

Wikia is not accessible if you've made further modifications. Remove the custom ad blocker rule(s) and the page will load as expected.