This is only a brief summary. For more information, please visit the Clint (aka Henry) page on Bully Wiki.
Clint (aka Henry) is one of the Townies in Bully.
Clint (aka Henry)
Clique
Townies
Gender
Male
Rival
Bullworth Academy Alumni
Kissable
No
Missions
Busting In, Part II
Preppies Vandalized
Mailbox Armageddon
The Collector
Finding Johnny Vincent
Voice Actor
Justin Mortelliti
Character Summary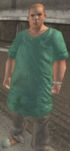 Clint is a member of the Townies clique. He is medium sized, and wears a black tank top with an orange design, crisp jeans, and brown boots. His hair is similar to Jimmy's; auburn, and in a buzzcut. He has a barbed wire tattoo on his right bicep.
In the winter, he wears a puffy orange coat and a black skull cap.
Clint is rather mean spirited, and is a patient at the Happy Volts Asylum. He has a phobia of clowns. When taunted, he claims to have three kids, although the legitimacy of this is unknown. His mother is apparently a cough syrup addict.
Quotes
Main article: Clint (aka Henry)/Quotes
Links
Ad blocker interference detected!
Wikia is a free-to-use site that makes money from advertising. We have a modified experience for viewers using ad blockers

Wikia is not accessible if you've made further modifications. Remove the custom ad blocker rule(s) and the page will load as expected.