"What's WRONG with me?! Sometimes, I-I-I-I just start CRYING and I can't stop!"
— Davis
This is only a brief summary. For more information, please visit the Davis White page at Bully Wiki.
Davis White is a member of the Bullies clique in Bully.
Character Summary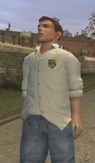 Davis is a small bully with brown hair and brown eyes. He has a couple blemishes on his forehead and wears the standard bully outfit of a white school shirt and jeans. In the winter, he adds an urban gray wool hat and black fingerless gloves.
Davis enjoys tormenting freshmen, and blames his cousin for his being a bully, and claims that if it weren't for his cousin, he would be normal. He suffers from emotional problems and is an excellent runner. Davis often brags about causing a student to drop out because of his bullying them, and this student was most likely Duncan.
Quotes
Main article: Davis White/Quotes
Links
Ad blocker interference detected!
Wikia is a free-to-use site that makes money from advertising. We have a modified experience for viewers using ad blockers

Wikia is not accessible if you've made further modifications. Remove the custom ad blocker rule(s) and the page will load as expected.