This is only a brief summary. For more information, please visit the Duncan page at Bully Wiki.
Duncan is one of the Townies in Bully.
Character Summary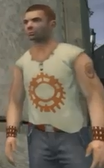 Duncan is one of the smaller Townies. He wears a white tank top with an orange design, and has his hair in a light brown fauxhawk. In the winter, he wears a black jacket, a bright orange wool hat with a black stripe, and orange gloves. On his left bicep he has a tattoo of a hand grenade.
Duncan attended Bullworth once, and may have been a Nerd. He dropped out of Bullworth due to being bullied; it is possible he was the student Davis brags about bullying to the point of dropping out. He regrets having dropped out.
Duncan is bisexual, and claims to have broken into the Girl's Dorm at Bullworth. He is asthmatic, and has apparently broken his collar bone three times. He enjoys playing Grottos & Gremlins, and appears to be friends with Leon.
Quotes
Main article: Duncan/Quotes
Links