"I don't think I'll ever get out of this dump of a town!"
— Edgar Munsen
This is only a brief summary. For more information, please visit the Edgar Munsen page at Bully Wiki.
Edgar Munsen is the leader of the Townies in Bully.
Character Summary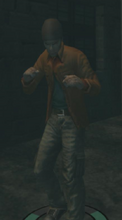 Edgar Munsen is the leader of the Townies. He is a mixed race medium sized townie. He has a long scar on the left side of his face, similar to Gary, and has a tattoo of a flaming object on his forearm.
He wears an orange button up shirt with the sleeves rolled up, and buttoned only at the top, over a green shirt, and tan cargo pants. In the winter, the sleeves are rolled down and he wears a brown skull cap.
Not much is know about Edgar's life or background. His family could not afford to send him to Bullworth Academy, which indicates they're a blue collar family, and for this reason alone, Edgar resents the school. His favorite insult is "bitch". He seems to enjoy fighting.
Quotes
Main article: Edgar Munsen/Quotes
Links
Ad blocker interference detected!
Wikia is a free-to-use site that makes money from advertising. We have a modified experience for viewers using ad blockers

Wikia is not accessible if you've made further modifications. Remove the custom ad blocker rule(s) and the page will load as expected.