This is only a brief summary. For more information, please visit the Grottos and Gremlins page at Bully Wiki.
Grottos & Gremlins is a fictional role-playing game in Bully.
Summary
Grottos & Gremlins is a role-playing game and is most likely a parody of real world games such as Dungeons & Dragons, Magic: The Gathering, Warhammer, and other games of the sort. It involves role-play, miniature strategy, collectible cards, a board, and character sheets.
The Nerds are avid fans of the game, as they are seen playing it in the cafeteria during cutscenes and often talk about it.
Rockstar had planned to integrate Grottos & Gremlins as a minigame, but the idea was scrapped due to a lack of time.
Apparently, Grottos & Gremlins was banned from the school classrooms due to students playing it during class. Melvin O'Connor is the game's biggest fan at Bullworth Academy.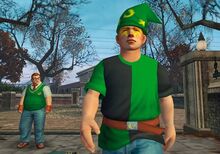 G&G Cards
Scattered throughout the game world, there is a total of 40 game cards. Collecting all of them earns the Grotto Master outfit.
Known Game Elements
Throughout Bully, various references are made to actual Grottos & Gremlins characters and powers.
Diplomacy (some sort of power)
Eowoama "Goddess of Rebirth"
Jeroba "Watcher of the Earth"
Kedayth "The Light Bearer"
Gwythien "The Elf Princess"