This is only a brief summary. For more information, please visit the Gurney page at Bully Wiki.
Gurney is a member of the Townies in Bully.
Character Summary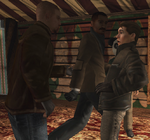 Gurney is a member of the Townies. He is the tallest of the townies, coming in second to Russell in terms of height. His auburn hair is in a buzzcut and he has a goatee.
Gurney wears a brown jacket over an orange T-shirt, along with blue jeans. In the winter, he adds fingerless gloves to his usual outfit.
He speaks with a slight southern accent and is very focused on girls. However, in contrast to other "girl crazy" characters, he is apparently successful with girls. He is also an aspiring musician. Gurney once attended Bullworth but was expelled.
Gurney is the townie responsible for setting the gym on fire in Chapter 5.
Some fans speculate that because his name is the same as the surname of Tom Gurney, a bully, they may be related. However, this is unlikely.
Quotes
Main article: Gurney/Quotes
Links
Ad blocker interference detected!
Wikia is a free-to-use site that makes money from advertising. We have a modified experience for viewers using ad blockers

Wikia is not accessible if you've made further modifications. Remove the custom ad blocker rule(s) and the page will load as expected.