"Was it my turn to get the Beam Cola, or was it Pete's?"
— Josh
Joshua Hyde is an
Original Character
created by
WayfinderOwl
. 
Personal History
Josh has lived all over Liberty City, Alderney and as far as San Andreas, always a pawn in his con artist parents Rachael and Thomas Hyde's schemes to dupe every last penny out of gullible idiots. Their love for him was non-existant. As long as he served a purpose for them, he had a place in their home. They make sure he knows that he was an accident, and if they didn't need him for sympathy they would have abandonned him long ago. Josh has no good feelings towards them. He used to have an imaginary set of parents, instead of imaginary friends like most children.
Even though he was their "child," they barely allowed him enough money to live. Once he was old enough, he started earning some of his own money by competing against the local kids for money in games of basketball, liar's dice, or blackjack. All but the latter he mastered. Living with liars his whole life gave him a keen eye for the tells of a liar. All of Josh's life was spent on the streets, putting his life on the line around people much older than him, having to trust the fact that they won't hurt him. If not for a kind hobo who taught him to read and write at the age of seven, he probably would have remained illiterate all of his life.
Until one scheme pushed him over the edge, when Rachael shaved his head bald, and told all their neighbours he had cancer, and they couldn't afford his treatment. Joshua urged them to send him to boarding school, so they could go their seperate ways. At the age of fifteen he got that wish, coming to Bullworth Academy.
Appearance
Josh has sandy brown hair, that always seems to grow up, not down, as he describes it. He is 5ft8 tall. Hazel eyes. None of his clothes are of great quality, because he simply can't afford them. The jeans he wears tend to be turn ups, so when he grows he can simply roll them down. Some patches are scattered on them appear to be decorative, but really they are patches covering up unavoidable holes. Even his sleepwear is more items of clothing he has put together, rather than an actual set. In everything he wears, he goes for comfort and function over fashion. His uniform changes periodically through the year, with each clique he joins, to help him fit in with them.
Wardrobe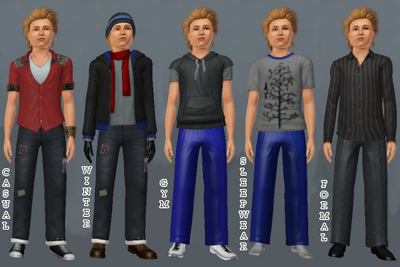 Interests & Quirks
Interests & Quirks
Even though Josh almost never reads books, he seems to be a fan of Alice in Wonderland. Choosing to go as The Madhatter from the story, and able to recognise Beatrice's costume of Alice. It is unknown if he has read the book or seen one of the movies.
When he takes a passing interest in reading during the early days of winter during the school year, he chooses A Christmas Carol. This appears that he prefers older stories, rather than more modern ones.
Josh likes games of chance. Such as Blackjack or Liar's Dice. Even though he plays them, when there is money involved, it feels to him like a job. Growing up it was. If he didn't win, he didn't have money to eat. Liar's dice hower, he has mastered. Being raised by liars helped him realize when he is being lied to.
When faced with a very tough decision, Josh tends to turn towards sports. Such as shooting hoops on the basketball court. Doing so never helps him, but it apparently clears his mind.
He believes a hotdog isn't a hotdog, unless it is cooked on a grill served up by a street vender.
His favorite color is red.
He likes dance club music. Something that will be stuck in his head for days.
He suffers from astraphobia, due to his parents cruelty in locking him out their current appartment or house on a regular basis, from a very young age. He never had someone to comfort him and show him there is nothing to be afraid of.
Friends
Love Life
Family
Cliques
The cliques at Bullworth play an important part to Josh, in his quest to fit in.
Stories
Other Fandoms
Josh appears in a The Last of Us fanfiction on fanfiction.net named Survivor's Guilt, along with the side story. Now in his late thirties, Josh is just as kind and humble as he always was, who became a medic. He has an eight year old daughter named Annalisa Rebecca Hyde, who is immune to the cordyceps virus.
Ad blocker interference detected!
Wikia is a free-to-use site that makes money from advertising. We have a modified experience for viewers using ad blockers

Wikia is not accessible if you've made further modifications. Remove the custom ad blocker rule(s) and the page will load as expected.