"You drop out of school, your life is pretty much over. Better to stay in, even if you suck."
— Lucky De Luca
This is only a brief summary. For more information, please visit the Lucky De Luca page at Bully Wiki.
Lucky De Luca is a member of the Greasers clique in Bully.
Character Summary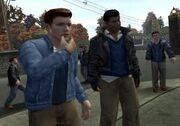 Lucky is a medium sized greaser and has auburn hair that is styled in a pompadour and green eyes. He wears a jean jacket over his
Bullworth
vest, school slacks, and brown boots. In the winter, he adds a pair of brown gloves to his outfit and switches from his school slacks to blue jeans. On
Halloween
, he simply wears a pumpkin head over his usual outfit and carries a bat. He speaks in a loud and strained voice.
Lucky is perhaps the most mature greaser, if not student, in the academy. He believes the world would be a better place if people stayed in school and held honest, blue collared jobs. Lucky thinks of himself as a nice guy and becomes irritated when people disagree. He thinks highly of himself, much like non-clique student Gordon Wakefield, and often exaggerates his skills, and wonders why girls reject him or are not interested in him. He often refers to women as 'broads'. Lucky is implied to be a senior, or an advanced junior, as he works on cars during Shop class.
He talks about having lost a fight against a boxer, possibly a Prep, such as Bif Taylor.
His name has been tagged all over the BMX Park in New Coventry.
It is possible that Lucky was modeled off of Darrell Curtis from The Outsiders.
Quotes
Main article: Lucky De Luca/Quotes
Links