This is only a brief summary. For more information, please visit the Main Building page at Bully Wiki.
The Main School Building is the main building of Bullworth Academy in Bully.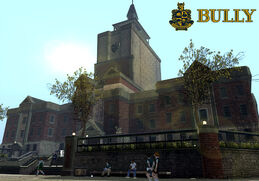 Description
The main building is in somewhat of a neo-gothic design, and contains classrooms, an auditorium, a cafeteria, restrooms, the main office, the headmaster's office, the staff room, and a school store. There is a total of four bathrooms, two on each floor.
The main building is where various classes are held, such as Art, Biology, Chemistry, English, Geography, Math, Music, and Photography. Additionally, there are classrooms for Home Economics and History, though these classes were not available in any of the Bully game versions.
The building is patrolled by the faculty and prefects. In a basement level, the cafeteria is located. In the hallways, there are lockers.
The exterior of the building does not match the interior. More information on how it does not can be found on Bully Wiki.
Locations
First Floor/Ground Floor
English classroom
Chemistry classroom
Basement door
School Clothing Store
Cafeteria
Boys' restroom
Girls' Restroom
Second Floor
Art/Photography classroom
Biology classroom
Math classroom
Music classroom
Home Economics classroom
Main office
Door to Roof (inaccessible)
Auditorium (inaccessible)
Boys' restroom
Girls' restroom
Headmaster's Office
Basement
Boiler Room
Janitor's Closet
The Hole
Ad blocker interference detected!
Wikia is a free-to-use site that makes money from advertising. We have a modified experience for viewers using ad blockers

Wikia is not accessible if you've made further modifications. Remove the custom ad blocker rule(s) and the page will load as expected.