"Can't name all fifty states? What a waste."
— Mr. Matthews
This is only a brief summary. For more information, please visit the Mr. Matthews page at Bully Wiki.
Mr. Matthews is the Geography teacher at Bullworth Academy in Bully: Scholarship Edition.
Mr. Matthews
Clique
Faculty
Status
Geography Teacher
Gender
Male
Family
Unseen Parents
Kissable
No
Character Summary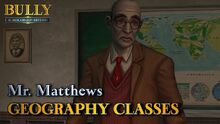 Mr. Matthews is a tall, thin man with balding, graying black hair. He appears to be in his fifties or sixties, and usually wears a dark orange suit and thick black-rimmed glasses. He speaks with an English accent.
Enthusiastic about his subject, Mr. Matthews tends to assume the best of his students, and enjoys reading documentaries. He is considered to be among the kinder teachers.
According to his dialogue, he comes from a family of farmers, and his father wanted him to become a farmer as well. Mr. Matthews can often be heard pondering if his father was right.
In one of his dialogue lines, he references Indiana Jones. It may be a simple fantasy, though it may also mean he was an archaeologist prior to becoming a teacher.
Quotes
Main article: Mr. Matthews/Quotes
Links
Ad blocker interference detected!
Wikia is a free-to-use site that makes money from advertising. We have a modified experience for viewers using ad blockers

Wikia is not accessible if you've made further modifications. Remove the custom ad blocker rule(s) and the page will load as expected.