"There's the pearl necklace! I still remember the first one I got."
— Ms. Philips
This is only a brief summary. For more information, please visit the Ms. Philips page at Bully Wiki.
Ms. Philips is the Art and Photography teacher at Bullworth Academy in Bully.
Character Summary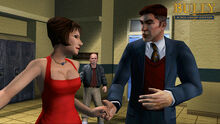 Ms. Philips has dark brown hair cut at neck length, and usually wears a brown leather jacket over a cream-colored sweater, along with a brown leather miniskirt over dark nylons and high heels. She has dark brown hair cut collar length which she lets down. For her date with Mr. Galloway, she wears a red dress, a pearl necklace, high heels, and she puts her hair back in an up do.
As one of the more well-liked teachers at the academy, Ms. Philips is prone to encouraging students rather than degrading them like some of the meaner teachers. Additionally, she is popular among male students for her attractiveness. Various of the female students seem to be rather jealous of Ms. Philips. It is rumored that she flirts and hits on male students, though this may simply be a combination of wishful thinking on the boys' part, and Christy Martin's gossip.
She is an art enthusiast, and enjoys painting in her free time. Aside from art, she is also a cat enthusiast. According to one of the noticeboard notices, one of her cats is named 'Malevich', most likely a reference to Polish-Russian painter Kazimir Malevich. It is suggested that Edna has cooked at least one of her cats into the casserole, though this may have been a joke.
She is romantically involved with Mr. Galloway, whom she refers to as her 'Gally-bear'. She enlists Jimmy to take Mr. Galloway's liquor bottles around the school, which she then gives to the Hobo. Later in the year, she asks Jimmy to go and pick up perfume, a red dress, and a pearl necklace for her, which ends up being for a date she had later that night with Mr. Galloway. In Galloway Away, she hires Jimmy to rescue Mr. Galloway from the Happy Volts Asylum. At the end of the game, she is seen cheering for Jimmy while standing next to Mr. Galloway.
Ms. Philips has been married three times, and most likely because of this insists the students call her 'Ms.' rather than 'Miss'. She is also a heavy smoker.
According to Pedro, Ms. Philips worked as a bunny waitress in college. From what Mr. Galloway said as he sees her for their date, her name is Deirdre.
Quotes
Main article: Ms. Philips/Quotes
Links
Ad blocker interference detected!
Wikia is a free-to-use site that makes money from advertising. We have a modified experience for viewers using ad blockers

Wikia is not accessible if you've made further modifications. Remove the custom ad blocker rule(s) and the page will load as expected.