" Peanut..Huh..Crummy Peanut!"
— Peanut Romano
This is only a brief summary. For more information, please visit the Peanut Romano page at Bully Wiki.
Peanut Romano is a second in command of the Greasers clique in Bully.
Character Summary
Peanut is a medium sized greaser and has dark brown hair that is greased back, with a few loose strands. He has brown eyes. Peanut wears a brown leather jacket over his school vest, along with a pair of jeans, and black boots. In the winter, he wears brown slacks and black gloves.
He seems to have a close relationship with Johnny Vincent, the leader of the greaser clique. He often cries for Johnny when beaten up, and when the fire alarm is pulled, he calls for Johnny and warns him. Despite this, he is attracted to Lola. He is never seen leading the clique while fellow greaser Norton Williams has, so many believe Norton to be the second in command, or him and Peanut to be lieutenants of some sort. In the game data files, however, Peanut is listed as second in command.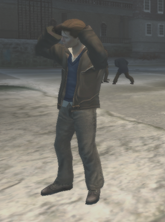 Peanut appears to have Napoleon complex, as he often complains about his height, and considers himself to be short.

According to Chad, Peanut's real name is Larry. He does not seem to like the nickname Peanut. Tad has a grudge against him though Peanut does not seem aware of this. Small talk around the school states that Thad once broke a yardstick over Peanut's head, and Peanut did nothing about it. He also has apparently gone after Mandy, to no avail.
Quotes
Main article: Peanut Romano/Quotes
Links