This is only a brief summary. For more information, please visit the Photography page at Bully Wiki.
Photography is a class available at Bullworth Academy in Bully.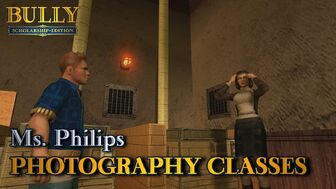 Class Summary
Photography is taught by Ms. Philips, and consists of the player going to various locations around the campus and the town and taking pictures. The class itself is basically the same thing, students visit various locations and photograph according to their assignments. There is, however, a time limit.
Rewards
Class
Location
Subjects
Reward
Photography 1
Bullworth Academy
Five school banners
Photo Album
Photography 2
Bullworth Academy
Any three students
Yearbook
Photography 3
New Coventry
Four hobos and/or dogs
More photo album space
Photography 4
Bullworth Academy

Bullworth Academy (main building)
Old Bullworth Vale Lighthouse
Old Bullworth Vale Church
Old Bullworth Vale Dam

Digital Camera
Photography 5
Billy Crane's Traveling Carnival
All freaks in Freak Show
2x Tickets at carnival games
Ad blocker interference detected!
Wikia is a free-to-use site that makes money from advertising. We have a modified experience for viewers using ad blockers

Wikia is not accessible if you've made further modifications. Remove the custom ad blocker rule(s) and the page will load as expected.