"I wish I was allowed to socialize outside of Daddy's tax bracket."
— Pinky
This is only a brief summary. For more information, please visit the Pinky Gauthier page at Bully Wiki.
Pinky Gauthier is a member of the Preppies clique in Bully.
Character Summary
Pinky is the female member of the preppies clique. She has brown hair styled short, and brown eyes. She wears an Aquaberry sweater vest over a white blouse, along with an Aquaberry skirt and brown shoes. On her wrists and around her neck, she wears gold jewelry. In the winter, Pinky wears a pink knit cap, pink gloves, and a pink zip-up sweater along with blue jeans.
Pinky is thought to be considerably attractive, but she is very spoiled. She thinks of herself as a princess and is insistent on being treated like one. She is condescending to those she considers to be below her, but has a fascination with those of lower classes, believing they are more "real". Pinky often complains about not being allowed to socialize with those outside of her father's tax bracket and dates boys of lower social classes. She also donates clothing to the less fortunate.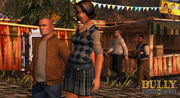 She is Derby Harrington's cousin, and they were betrothed until she broke it off after he was three minutes late to a date with her. She is a cheerleader and dislikes her step-mother, who is six years older than Pinky.
Quotes
Main article: Pinky Gauthier/Quotes
Links