"Ha ha! Atomic wedgie made him bleed!"
— Russell
This is only a brief summary. For more information, please visit the Russell Northrop page at Bully Wiki.
Russell Northrop is the leader of the Bullies clique in Bully.
Russell Northrop
Clique
Bullies
Status
Clique Leader
Gender
Male
Kissable
No
Missions
Russell in the Hole
Tad's House
Busting In, Part I
Busting In, Part II
Complete Mayhem
Voice Actor
Cody Melton
Character Summary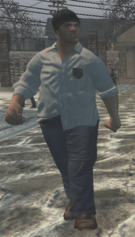 Russell is by far the tallest, strongest, and most hulking student in Bullworth Academy. He has reddish-brown hair that is in a bowl cut and brown eyes. He wears the standard Bullies "uniform"; an untucked white Bullworth school shirt, and denim jeans. However, he wears brown boots instead of sneakers. In the winter, he rolls one of his sleeves down and adds a black urban hat. On his left bicep, he has a tattoo.
His shoe size is seventeen, and shoe laces confuse him.
Russell is easily the most feared student on campus, due to his size and strength. He intimidates prefects and staff though can still be busted by them. He enjoys bullying the nerds, mainly Cornelius and Donald. He has the mind of a child and does not understand the concept of alcoholism. However, he can distinguish right from wrong, much like a small child.
Russell has medical problems that are stated, hinted at, and rumored. Nurse McRae told him he has overactive glands. He is unintelligent, but according to Angie, does well in math. He lives in Old Bullworth Vale, and was at first meant to be the leader of the Punks, and later the Dropouts.
Quotes
Main article: Russell Northrop/Quotes
Links