"This planet is too small for my copious greatness!"
— Thad Carlson
This is only a brief summary. For more information, please visit the Thad Carlson page at Bully Wiki.
Thad Carlson is a member of the Nerds clique in Bully.
Character Summary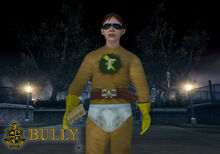 Thad is a small, thin nerd. He has red hair, brown eyes, and wears horn-rimmed glasses. Year round, Thad wears the Astronomy club sweater, and it is patched at the elbows. In the winter, Thad also wears yellow tinted ski glasses over his regular glasses, gray gloves, winter boots, and a puffball hat. When in gym class, he wears athletic glasses. Thad also appears to have braces. He dresses as 'Super Thad' for Halloween.
He has a lisp, however it disappears when he talks in mission dialogue. His weapon of choice is a yardstick, and according to school talk, he broke a yardstick over Peanut's head and got away with it the year before Jimmy arrives at Bullworth. He is also very good at making weapons, and according to Trent, Thad once made a grenade out of an eraser.
Unlike the other nerds, Thad's main grudge is toward the greasers. He often complains about them ruining his science projects. Thad is also more aggressive than the other nerds, and often stays to fight rather than cowering or fleeing. He has an interest in U.S. history.
Thad is the younger brother of Dan Wilson. Although their surnames are different, their surnames were only provided by the Bully Soundboard, which is known to have errors. Also, references to their relationship can be heard in the game.
Quotes
Main article: Thad Carlson/Quotes
Links