"Here ya go boy... How about a little trick for a treat?"
— Gary Smith
This is only a brief summary. For more information, please visit the The Big Prank page at Bully Wiki.
The Big Prank is an optional mission in Chapter 1 that occurs directly after and only on Halloween in Bully.
MISSION


The Big Prank

Gary and Jimmy waiting for Chester to finish his business.

Location:
Outside Harrington House
Time(s) Available:
Directly after Halloween
Reward:
Red Ninja Outfit
Mission Summary
After finishing a night of Halloween pranking their fellow students, Gary, Pete, and Jimmy stand outside of Harrington House, conversing. Gary reveals his final prank idea to the other two, that involves feeding Chad Morris' dog Chester rancid meat, and waiting for him to poop. Pete, disgusted by the idea, ditches Jimmy and Gary and heads back to the dorm instead.
Gary, unfazed, tells Jimmy that they'll go ahead and get started now, and that he'll explain the rest later. Gary and Jimmy run into the sideyard beside Harrington House, and Gary begins chasing the dog. Chad sees the two, and immediately comes to his dog's defense and starts trying to beat up Gary. Jimmy instead knocks him out, and Gary manages to feed Chester the expired meat.
Chester excretes, and Gary places the feces into a brown paper bag and hands it to Jimmy to carry. They then head into the school, and Jimmy sets the bag down in front of the door to the teacher's lounge. Gary lights it on fire, and Jimmy then pulls the fire alarm. Hearing the alarm, Mr. Burton exits the lounge and stamps out the fire, cursing upon realizing it is filled with dog feces and trying to wipe his shoes.
Gary congratulates Jimmy, and the two run from Mr. Burton and the Prefects.
Video Walkthrough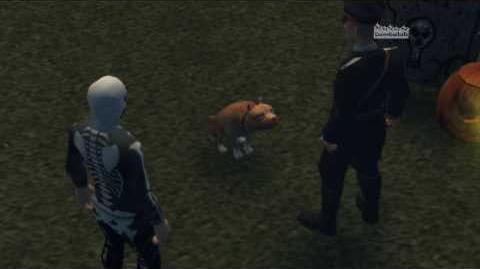 Ad blocker interference detected!
Wikia is a free-to-use site that makes money from advertising. We have a modified experience for viewers using ad blockers

Wikia is not accessible if you've made further modifications. Remove the custom ad blocker rule(s) and the page will load as expected.