"Forget stage. A face like this is pure cinema, you get me?"
— Trent
This is only a brief summary. For more information, please visit the Trent Northwick page at Bully Wiki.
Trent Northwick is a member of the Bullies clique in Bully.
Character Summary
Trent is one of the bullies. He has blonde hair, light blue eyes, and pimples on his forehead. He wears the usual white collar shirt and blue jeans. In the winter, Trent wears a long sleeved white school shirt over a blue hoodie, and a blue-gray urban hat.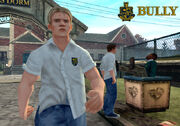 Trent believes bullying helps make men out of boys. He is a yo-yo enthusiast and aspiring movie star, as well as bisexual. He is a member of the
photography club
and states he enjoys taking pictures of girls. He is suggested to be a part of the drama club and apparently did a summer theater camp. He apparently also enjoys reading manga.
Trent is openly girl crazy and claims Mandy and Lola fight over him (though some fanworks treat this as overcompensation). He is once seen on a movie date with Kirby in Movie Tickets. He, along with Troy, challenged Jimmy to a game of Roshambo in the mission Character Sheets.
He claims he attends Bullworth because his father attended the school, and it "made a man" of him.
Quotes
Main article: Trent Northwick/Quotes
Links