"There are two sides to biology, boy. Life... and death."
— Dr. Slawter
This is only a brief summary. For more information, please visit the Weed Killer page at Bully Wiki.
Weed Killer is a non-storyline mission in Chapter 2 of Bully.
MISSION


Weed Killer

Dr. Slawter in his classroom.

Location:
Biology Classroom
Time(s) Available:
Before 11PM, outside of class hours
Reward:
$30
Crapula Maxima leaf room trophy
Mission Summary
Dr. Slawter sits at his desk, and looks up when he hears Jimmy Hopkins call out 'hello'. He scolds Jimmy for 'just standing there' and tells him to come closer.
Jimmy asks him what he wanted, and why he sent for him. Dr. Slawter at first does not recall sending for Jimmy, but soon remembers that he had. He shows Jimmy a huge Venus fly trap beside his desk, and describes it as magnificent. He tells Jimmy that it is a Crapula Maxima Fortissima (a fictional plant whose name roughly translates to 'giant piece of crap'), a rare and precious Venus fly trap. He goes on to tell Jimmy that unfortunately Derby Harrington was given the same plant by his father, to belittle Slawter's collection.
Slawter tells Jimmy that there are two sides to biology, life and death, and Jimmy takes this as Slawter telling him to kill Derby, which he gladly agrees to. Irritated, Slawter clarifies that he means the plant, not Derby. Jimmy agrees to this, but not as enthusiastically.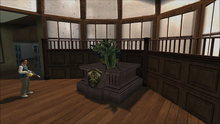 First, Jimmy has to disguise himself as a Prep by wearing an Aquaberry sweater or vest, and a haircut from either the Old Bullworth Vale Beauty Salon, or a select few from The Happy Mullet in Bullworth Town. He goes to Harrington House, and is allowed inside by Bif Taylor who is manning the door.
Inside, Jimmy overhears a conversation in which Gord Vendome tells Parker Ogilvie that he will be assisting his father with a murder trial over the summer on the first floor. On the second floor, Tad Spencer and Justin Vandervelde are conversing. Chad Morris and Bryce Montrose are by the greenhouse, conversing.
In the greenhouse, Jimmy uses the poison gun to blast Derby's Crapula Maxima. Once it is dead, the Preps come to attack Jimmy. He can choose to fight them or run away. When Jimmy exits the front door, the mission ends.
Video Walkthrough
Ad blocker interference detected!
Wikia is a free-to-use site that makes money from advertising. We have a modified experience for viewers using ad blockers

Wikia is not accessible if you've made further modifications. Remove the custom ad blocker rule(s) and the page will load as expected.