"Why is everyone around here so fake? So much boring B.S.!"
— Zoe Taylor
This is only a brief summary. For more information, please visit the Zoe Taylor page at Bully Wiki.
Zoe Taylor is the female member of the Townies clique in Bully.
Character Summary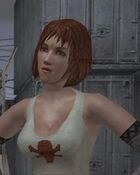 Zoe has red hair in a bob cut and brown eyes. She wears a cropped white T-shirt with a skull, a denim skirt with a flame pattern along the bottom hem, goth boots, and black lace gloves. In the winter, she wears a black bomber jacket. On campus, however, Zoe wears a white school shirt along with an orange tartan skirt, and her black lace gloves. When in her townie outfit, a tattoo of cherries above her right hip is visible. Her nails are painted black.
Zoe apparently argues often with her mother. She attended Bullworth Academy before the game begins, but was expelled due to her complaints about Mr. Burton sexually harrassing her. She is welcomed back to the academy after Jimmy explains to Dr. Crabblesnitch the injustice in Zoe's situation. She is intelligent, and enjoys reading. She feels everyone at Bullworth is "fake", and prefers junkies and older men in regards to dating. While attending the academy, she behaves as a non-clique student.
Unused dialogue found in both hers and Mandy Wiles' speech files suggests that the two were friends at some point in their lives.
Quotes
Main article: Zoe Taylor/Quotes
Links
Ad blocker interference detected!
Wikia is a free-to-use site that makes money from advertising. We have a modified experience for viewers using ad blockers

Wikia is not accessible if you've made further modifications. Remove the custom ad blocker rule(s) and the page will load as expected.